Featured Products
Premium Quality Parts and World Class Brands You Know and Trust.
Go to Amsoil Synthetic Lubricants
Amsoil Synthetic Lubricants
AMSOIL makes top-quality synthetic lubricants for your car, truck, motorcycle, boat, four-wheeler, snowmobile, lawnmower and anything else with an engine. AMSOIL lubricants are designed to help your equipment run at peak efficiency and last longer. Join the millions of proud AMSOIL users to experience the difference.
Go to AKEBONO ProAct Ceramic Brake Pads
AKEBONO ProAct Ceramic Brake Pads
Akebono Brake Pads are the OEM brand of choice for clean wheels, quiet performance, longer rotor and pad life, and a smooth and confident pedal feel.
NGK Spark Plugs
With a full line of NGK spark plugs (V-Power, G-Power, Iridium IX, Racing, Laser Platinum and Laser Iridium), you're sure to find the right spark plug for your car, truck, SUV, motorcycle, marine, or small engine application.
Exedy Clutch Kits
We carry a complete line of EXEDY OEM Replacement Clutch Kits for import vehicles. Engineered to exact OE specs, you can expect smooth operation and durability with an EXEDY Pro-Kit.
KYB Shocks & Struts
KYB is the world's largest supplier of shocks and struts to major OEMs including GM, Honda, Mazda, Mitsubishi, Nissan, Infiniti, Chrysler, Subaru, Toyota, Lexus, and Volkswagen.
Denso First Time Fit Products
DENSO First Time Fit® products – including AC compressors, fuel pumps, oxygen sensors, wiper blades and more – are built and tested to OE-standard to give you the right part and the right fit … the first time, every time.
Premium Quality Alternators & Starters
Quality, value, and performance are the hallmarks of our remanufactured rotating electrical products. Made in USA.
About Us
The Place to Go for Hard-to-Find Parts, So You Can Blaze Back on the Road in a Flash!
Celebrating 40 Years in Business 1977-2017
Global Auto Parts is an independent, family-owned auto parts retailer specializing in premium quality parts for import vehicles. We carry trusted parts from world-class manufacturers such as Akebono, NGK, Denso, Exedy, and KYB. If you're looking for AMSOIL or other specialty synthetic lubricants such as Redline, Motul, or OEM fluids, we've got you covered. While our focus is on import makes, we do carry a good selection of parts for your domestic (Chevrolet, GMC, Ford, Dodge, Chrysler) vehicle, too. Give us a call or stop by today - our problem-solving team loves to find solutions to help you get back on the road!
40 years in business and still going strong! A robust inventory and a passion for what we do means you can always count on us for premium quality parts at competitive prices.

Courteous service with a smile. Anticipating your needs. Finding creative solutions. Delivering on promises. We are here for you, and we appreciate your business!

When it comes to auto parts, it's all about durability, reliability, and peace of mind. Your time is valuable. Choose quality parts, and get the job done right the first time.

Technical and product knowledge is an exciting and neverending journey. We make it a point to stay sharp and updated, so we can share our expertise with you.
The Global Team
Knowledgeable Parts Professionals + Furry Team Members = A Totally Unique Parts Store Experience.
Bonnie
Parts Professional & Director of Canine/Feline Resources
If you're in need of a hard-to-find part, Bonnie will gladly rise to the challenge. Experience, patience, and a penchant for problem-solving means you can count on her to get you the right part, and FAST. Outside of work, Bonnie enjoys dog agility, table tennis, skiing, and feral cat care and socialization.
Annika
Chief Security Officer & Director of Human Resources
Annika joined the Global team in 2012. She is our hard-working Chief Security Officer and keeps fellow team members entertained with her signature blend of wit and intelligence. When off-duty, Annika demands a daily 30-minute dose of freestyle disc dog!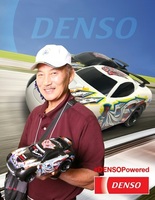 Henry
Company Founder & General Operations Manager
Henry started this business back in 1977. With a background in mechanical engineering and experience in automotive repair, he's always happy to answer your questions and share technical advice. Henry is an avid golfer and also enjoys skiing, reading, and DIY projects.
Honcho
Director of Business Development
Honcho is our former Marketing Director who moved up to head of Business Development in 2016. He spends most of the time out in the field, while also collaborating with inside sales and marketing team associates.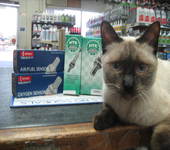 Cookie
Chief Marketing Officer & Customer Relations Manager
As Chief Marketing Officer, Cookie oversees all aspects of product promotion, including social media modeling. She doubles as Customer Relations Manager, so you'll often find her perched on the front counter, engaging with every customer she meets!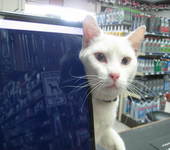 Sugar
Marketing & Business Development Associate
Sugar is our sweet associate who works alongside his sister Cookie in marketing and social media activities. He also reports to Honcho in the biz development arena. In his free time, he enjoys lively games of ball-fetching and laser pointer chasing!
Map & Location
We're located on the southwest corner of Hammer & Thornton. Tel: (209)951-3761
7827 Thornton Road Stockton, California
Store Hours: Mon-Sat 9:00 - 6:00. Sunday: Closed
For fastest assistance, please call us at (209)951-3761. We are open from 9:00-6:00 Pacific time, Monday-Saturday.